Promotional Materials for Brad Brown Events
So, you're hosting an event with Brad Brown, and want to let the world know. Great! You're in the right place! This site is designed to provide you with the tools you need to make the event a success. (You have booked Brad, right? If not, you probably want to be on his main website instead.)
This promotional materials website is filed with resources to help make your even a success. Below are some tips to help you get started
Promoting Your Event
Use Canva?
If you use Canva, the online graphic design tool, you can easily create custom flyers, invitation cards, and social media graphics to promote your event with Brad.
Just let us know that you'd like access, and we'll add you to Brad's Canva Team so you can use the templates.
Resources for Social Media and Website Use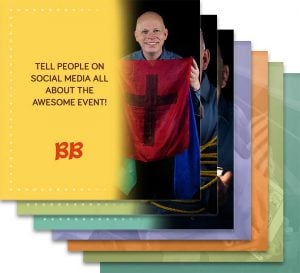 Ready-Made Images
This site contains a collection of ready-made images you can use on social media.
Customized Image Creation
It also has tools you can use to easily create images for social media with the details of your event. Just enter your details and save the customized images to your computer.
Show announcement images are great for providing all the basic details of your event.
There also is a collection of action images, that allow you to include any brief message you wish.
Resources to Design Your Own Materials
Of course, you can start from scratch and design your own artwork using the resources on this site. The style guide is available to help you create materials with the "Brad Brown look."
Videos
You know what else social media loves? Videos! Especially videos of cats. Well, we can't help you with cat videos, but we do have a collection of videos you can use to promote the event.
Print Materials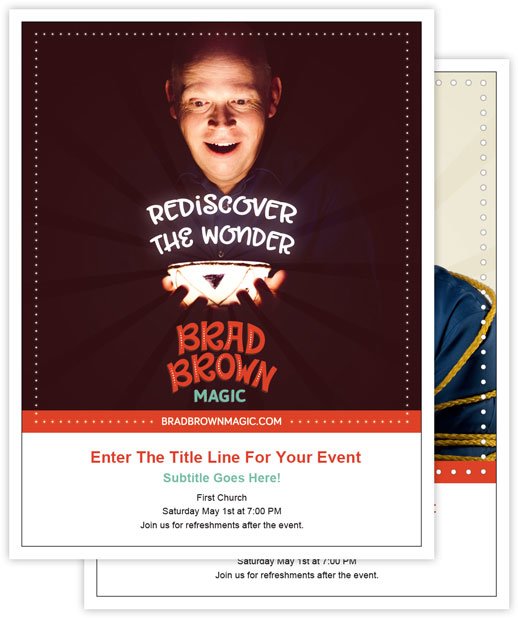 Ready-to-Print Flyers
Here's a simple online tool to download a ready to print flyer, customized with your event details. This option is best if you want to quickly create flyers to print off yourself or at a local quick-printer.
Download Flyer and Invitation Card Designs
These flyer and invitation card designs can be customized using your own design or word processing software.
Design Your Own
Need to create your own artwork? Here is a collection of photos and images to help promote your event. The style guide is available to help you create materials with the "Brad Brown look."
Hosting the Event
The Technical Rider contains all the stuff you need to provide for the best possible event, including staging, sound, and lighting. Don't worry, Brad works hard to make everything as simple as possible for you.
Brad does carry a liability insurance policy. If you need proof of insurance or need to be added as an additional insured, just let us know.